William Dylan Powell and S.C. Perkins will be here from 1-3 as guest booksellers!
William Dylan Powell writes dark, and often funny, mystery fiction set in Texas. He's the author or co-author of a half-dozen books, and winner of awards from the Robert L. Fish Memorial Award Fund and the Mystery Writers of America.
Powell's work has been featured in Ellery Queen's Mystery Magazine, Alfred Hitchcock's Mystery Magazine, Needle: A Magazine of Noir, Pulp Modern, The Flash Fiction Offensive, Dirty Noir, Beat to a Pulp and a host of fine truck stop bathroom walls across the Texas badlands. When not writing fiction, he is the creative director at a Houston ad agency.

S.C. Perkins is a fifth-generation Texan who grew up hearing fascinating stories of her ancestry and eating lots of great Tex-Mex, both of which inspired the plot of her debut mystery novel. Murder Once Removed (available March 2019) was the winner of the 2017 Malice Domestic Best First Traditional Mystery competition. She resides in Houston and, when she's not writing or working at her day job, she's likely outside in the sun, on the beach, or riding horses. Visit her website at scperkins.com or follow her on Twitter, Instagram, Goodreads, and Facebook @SCPerkinsWriter.
Event date:
Saturday, November 24, 2018 -

1:00pm

to

3:00pm
Event address:

$16.00
ISBN: 9781681061467
Availability: Usually Ships in 1-5 Days
Published: Reedy Press - August 15th, 2018
---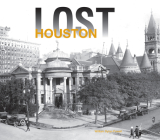 $19.95
ISBN: 9781910496756
Availability: Special Order
Published: Pavilion - February 15th, 2016
A look at how the buildings, streets, and institutions that comprise Houston's cityscape have changed dramatically over the years, and the many that were lost along the waySince its founding in 1836, Houston has become America's fourth largest city.
---

$19.95
ISBN: 9781910904145
Availability: Usually Ships in 1-5 Days
Published: Pavilion - April 1st, 2016
Texas Then and Now features the most prominent locations from around the state, comparing vintage photographs with modern views of the same scenes today.
---

$16.95
ISBN: 9781604336429
Availability: Usually Ships in 1-5 Days
Published: Cider Mill Press - September 13th, 2016
Be careful whom you cross--they may have read this book!

Killed with a toilet? Deadly belt buckles? Sexed to death? Untimely Demise is a darkly comedic exploration of the 365 most fascinating ways people have offed one another since the beginning of time, from ninja swords to pernicious poisons, mobster murders to sneaky sabotage—and everything in between.
---

$26.99
ISBN: 9781250189035
Availability: Usually Ships in 1-5 Days
Published: Minotaur Books - March 19th, 2019
S.C. Perkins' Murder Once Removed is the captivating first mystery in the Ancestry Detective series, in which Texas genealogist Lucy Lancaster uses her skills to solve murders in both the past and present.
---